REAL PROTECTION From the Dangers of Carbon Monoxide
Every year there are incidents in the news about families rushed to the hospital, and in tragic circumstances, deaths occur because of CO in a home. The threat is very real, and steps must be taken to protect the ones you love.
You may not realize it, but most Carbon Monoxide (CO) detectors that are available in home improvement stores provide only a minimal amount of protection. Here's the problem:
They don't alarm you until unsafe levels are already present and have been that way for a while (some up to three hours). Even low-level CO can cause illness or lead to permanent issues.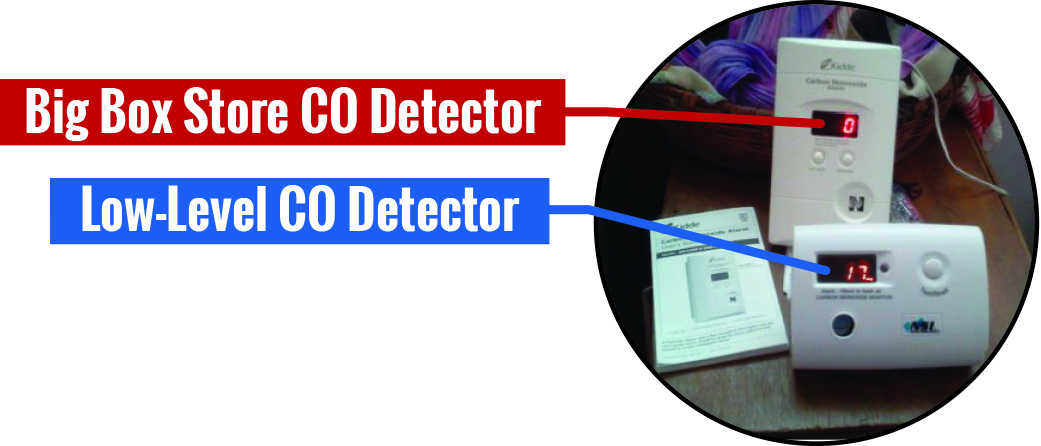 Low-Level CO Detectors Reduce the Risk
This picture taken in one of our customer's home clearly shows the difference.
Naturally, you would want to know before dangerous levels are reached – right?
Our Low- Level CO detectors let you know there are problems before they reach dangerous levels (long before the other detectors would have). Plus, they:
Protect your entire household. Including all age groups: newborns to senior citizens, and people who are ill or highly sensitive.


Protect you, even if the power goes out. Back-up battery ensures operation even in a power loss.


Uses the same electrochemical sensors found in professional CO analyzers and calibrated to the highest standards using CO (not electronically like many other types of alarms).