Heat Pump Services
Arizona's Heat Pump Repair, Replacement, and Maintenance Experts
Heat pumps provide both heating and cooling for your home, which means that they perform double duty to keep your home comfortable.
Since 1970, the experts at John's Heating and Cooling have been providing quality Mesa AZ heat pump replacement, repair and maintenance services. Our NATE–certified heat pump repair HVAC technicians have years of training and experience, and they all undergo background checks so that they can provide you with the quality of service that you deserve. We back all of our work with our rock-solid guarantees, which is one of the reasons why our business has grown primarily through referrals.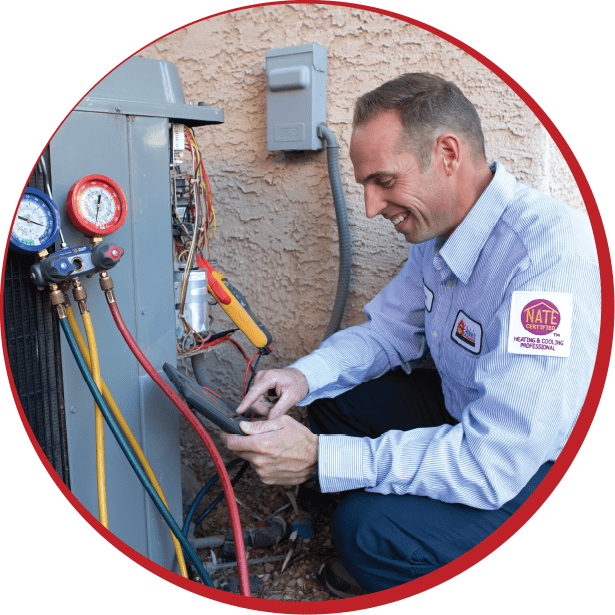 We proudly carry an A+ rating from the Better Business Bureau because of our commitment to always doing the right thing when it comes to our customers, our employees, and our business.
The Mesa AZ heat pump experts at John's Heating and Cooling offer quality repair and maintenance services throughout the Tempe, Chandler, Gilbert, Scottsdale, and Phoenix areas.
Heat Pump Repair Services
As we mentioned above, heat pumps get a lot of use throughout the year by providing your home with both heating and cooling. John's Heating and Cooling provides heat pump repair services for all types and brands of heat pumps. When you call us for repair services, we are committed to arriving as quickly as possible, and our Mesa heat pump repair technicians always wear professional uniforms and boot covers.
Plus, we back all completed heat pump repairs with our 1-Year Done Right Guarantee.
Heat Pump Maintenance Services in Mesa, AZ
At John's Heating and Cooling, we offer a Peak Performance Club membership to all of our customers. We often get asked what the benefits are to getting regular heat pump maintenance services. In addition to 24/7 emergency heat pump services, priority service, repair discounts, and a whole host of guarantees, there are a few other important benefits as well.
Reduce Heat Pump Breakdowns

One of the most important benefits of regular heat pump maintenance is that it reduces the need for repairs. As your heat pump operates throughout the year, it may develop small problems. When your heat pump is professionally and regularly maintained, technicians will find those developing problems and fix them before they turn into larger repairs.

Increased efficiency

Any small inconsistencies with your heat pump will likely cause your system to work harder to cool or heat your home, which results in reduced efficiency. By regularly fixing those problems, you could return some of the efficiency to your heat pump (which might help lower your utility costs).

Extended life

Over time, reoccurring small problems with your heat pump can actually cause it to need replacement prematurely. By getting regular maintenance for your heat pump, you might be able to extend its life.
We back all completed maintenance services with our Heat Pump No Breakdown Guarantee
Arizona's Heat Pump Repair and Maintenance Experts
Give us a call today to learn more about the benefits of regular maintenance or to schedule a heat pump repair service. Our heat pump repair technicians are highly trained, and we are fully committed to your complete satisfaction.