You May Have Heard SRP's Recommendation to Get an AC Checkup to Improve Efficiency – the Question is, is it Enough?
Energy experts, manufacturers, and industry professionals take SRP's AC Checkup recommendation one step further and recommend comprehensive annual AC maintenance services (a tune-up) to keep systems running at Peak Performance
John's Refrigeration is an SRP Preferred Contractor, and we offer the recommended AC Check-up that SRP promotes and the special deal to get it done. Although we are happy to provide this service, we agree with the experts that a comprehensive Air Conditioning System Maintenance service (we call ours a Deluxe AC Tune-up) is a better value for our customers. That is why...
We Recommend a Deluxe AC Tune-up Instead of an SRP AC Checkup
The standard AC Checkup promoted by SRP includes an inspection of the AC system, cleaning the filter, flushing the drain line, as well as some adjustments to the system. While this is a good service to have done - it does not do enough to improve the efficiency of your system or to promote longer equipment life.
It is like having a policeman tell you, you are about to get robbed – but he doesn't do a darn thing to stop it!
Our Deluxe AC Tune-Up Offers More Value Than an AC Checkup
We include an inspection and thorough cleaning just like the SRP AC Checkup, but we do a lot more. Our comprehensive tune-up is not a quick in and out-the-door service. We take a full hour to an hour and a half to complete a thorough comprehensive service that includes inspections for BOTH the indoor and outdoor units, a chemical cleaning on the coil, and adjustments to improve function to get you real value for your investment.
Your Air Conditioning System Will Pay You Back With:
Reduced Likelihood of a Breakdown this Season by 97%
Maximum Efficiency and Comfort
Maximum Energy Savings (Save 5%-30%)*
Meet Warranty Maintenance Requirements
Add 3-5 Years to Your Equipment Life (When Done Consistently)
Click here to read how our Peak Performance Club makes keeping your air conditioner maintenance services up to date. It's easy, economical, and provides additional ways to save money and time.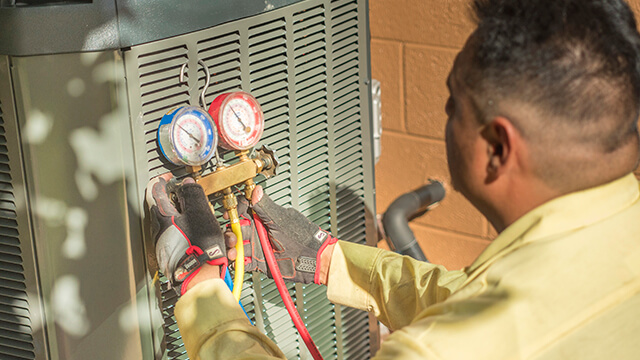 *Energy savings vary depending on the condition of the system when maintenance services were performed.